Dishwashing liquid Lime 5L
Boutique d'Usine Moderne
Pickup available, usually ready in 24 hours
201 Impasse Gaspard Monge
ZAC de la Crau
13300 Salon-de-Provence
France
+33490560728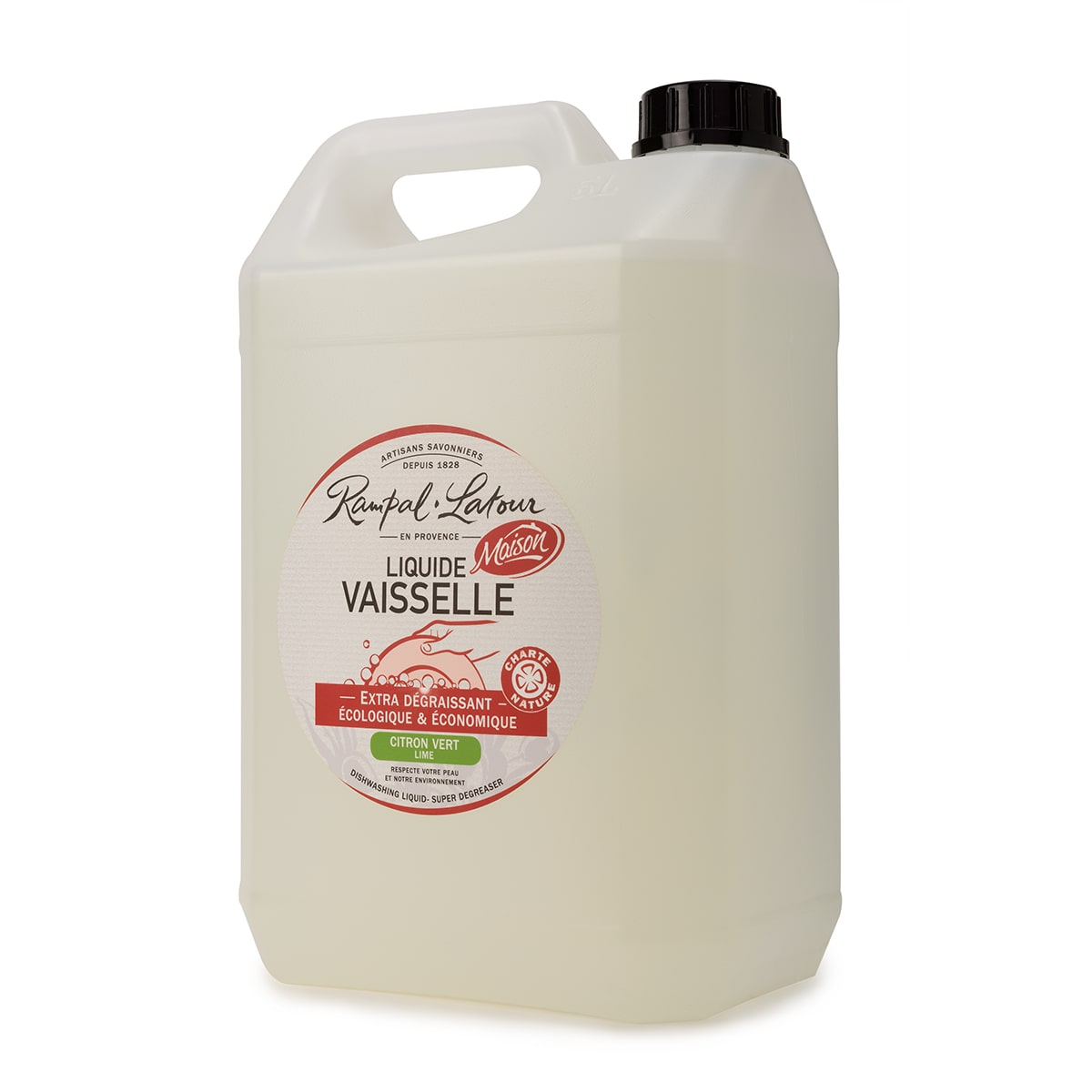 Dishwashing liquid Lime 5L
Are you looking for a gentle and effective washing up liquid? Do not search anymore ! Our lime washing-up liquid respects the skin of the hands while degreasing the dishes very easily. Respectful of the skin of the hands and extra-degreasing, our dishwashing liquid combines efficiency and easy rinsing. Usable without gloves, it smells like the freshness of lime. Made in France, it is made in our workshops in Salon de Provence, in the south of France.
Pickup available at Boutique d'Usine Moderne
Usually ready in 24 hours
With our lime washing-up liquid made in Provence, your dishes stay like new since it is ultra degreasing. Without parabens, solvents, dyes or superfoaming agents, it does not attack the skin.

Thanks to his 5L refill format , always be one step ahead of your supplies, and reduce your use of plastic packaging by regularly filling your smaller containers. Plus, you'll save money! Mild yet powerful, our dishwashing liquid is concentrated. No need to use a lot. So you can keep it longer.

Practical: you can refill all your formats such as your 250ml bottle or your 1 liter bottle for more convenience!

Its lime scent works to get rid of stubborn odors. With it, no more smells of garlic, fish, or frying!
INCI Ingredients: Aqua (Water), Sodium Laureth Sulfate, Sodium Chloride, Cocamide Dea, Parfum, Limonene, Citral.

In other words, in our dishwashing liquid, you will find: water, a cleaning agent, table salt, an emulsifier, a perfume.

A dishwashing liquid with a simple, effective composition, which remains focused on the essentials:
A powerful degreaser
A cleansing base of vegetable origin
Recyclable packaging
Can be used without gloves
Without parabens, without solvents, without dyes, without superfoaming agents.
Our lime-scented dishwashing liquid will surprise you! He knows :
- Take care of vintage tableware and family tableware to make them last over time
- Neutralize stubborn odors
- Effortlessly degrease fryers and crepe makers
- Clean the gratin dishes of the great chefs but also the pans of the apprentice cooks
- Go the distance: it is concentrated, lasts a long time, and requires little water for rinsing.


This format is perfect for your peace of mind. No more worrying about whether there is dishwashing liquid left or not. There will always be some! Or almost !

Recommended dosage
Concentrated formula: a small amount on a damp sponge or diluted in water is enough to wash gently.
Liquide vaisselle Citron vert 5L
Comme d'habitude le liquide vaisselle est parfait. Très mousseux inutile d'utilser beaucoup de liquide, parfum très agréable, frais. Produit très dégraissant, petit essai sur ma friture traditionnelle, résultat parfait. Je suis très satisfaite, je recommande vivement.
Enfin un liquide vaisselle peu moussant et pourtant très efficace !
Concerne "Liquide vaisselle Citron vert 5L citron vert" 39e50 achat nov23 " Je recherchais un liquide vaisselle mains qui mousse peu, car j'en avais assez de gaspiller de l'eau et encore de l'eau pour enlever "la mousse" -ce n'est plus la vaisselle que je rinçais mais bien la mousse!- ou pour rincer une éponge. Bravo pour l'environnement !
..Ce produit me satisfait pleinement: mousse très peu et dégraisse parfaitement. Non seulement je gagne du temps mais aussi je râle moins.
Je ne peux que recommander ce produit pour toutes les personnes qui seront sensibles aux arguments développés ci-dessus...
Parfait
Super dégraissant,bonne odeur de citron
Parfait à tout point de vue
Écologique, super efficace et sent trop bon.
Super dégraissant et doux pour les mains