Box of 10 cubes of Marseille soap with olive oil - Cosmos Natural
Boutique d'Usine Moderne
Pickup available, usually ready in 24 hours
201 Impasse Gaspard Monge
ZAC de la Crau
13300 Salon-de-Provence
France
+33490560728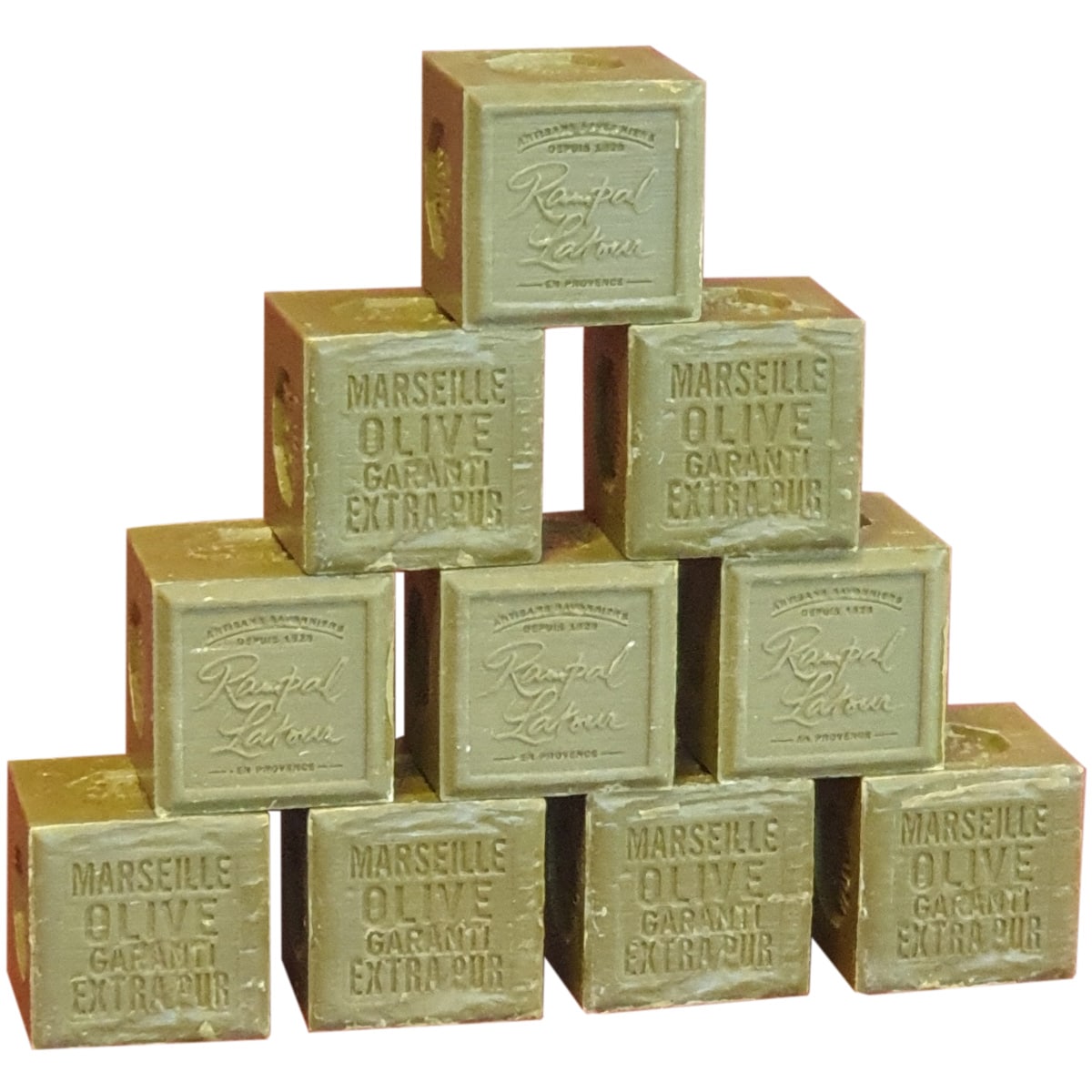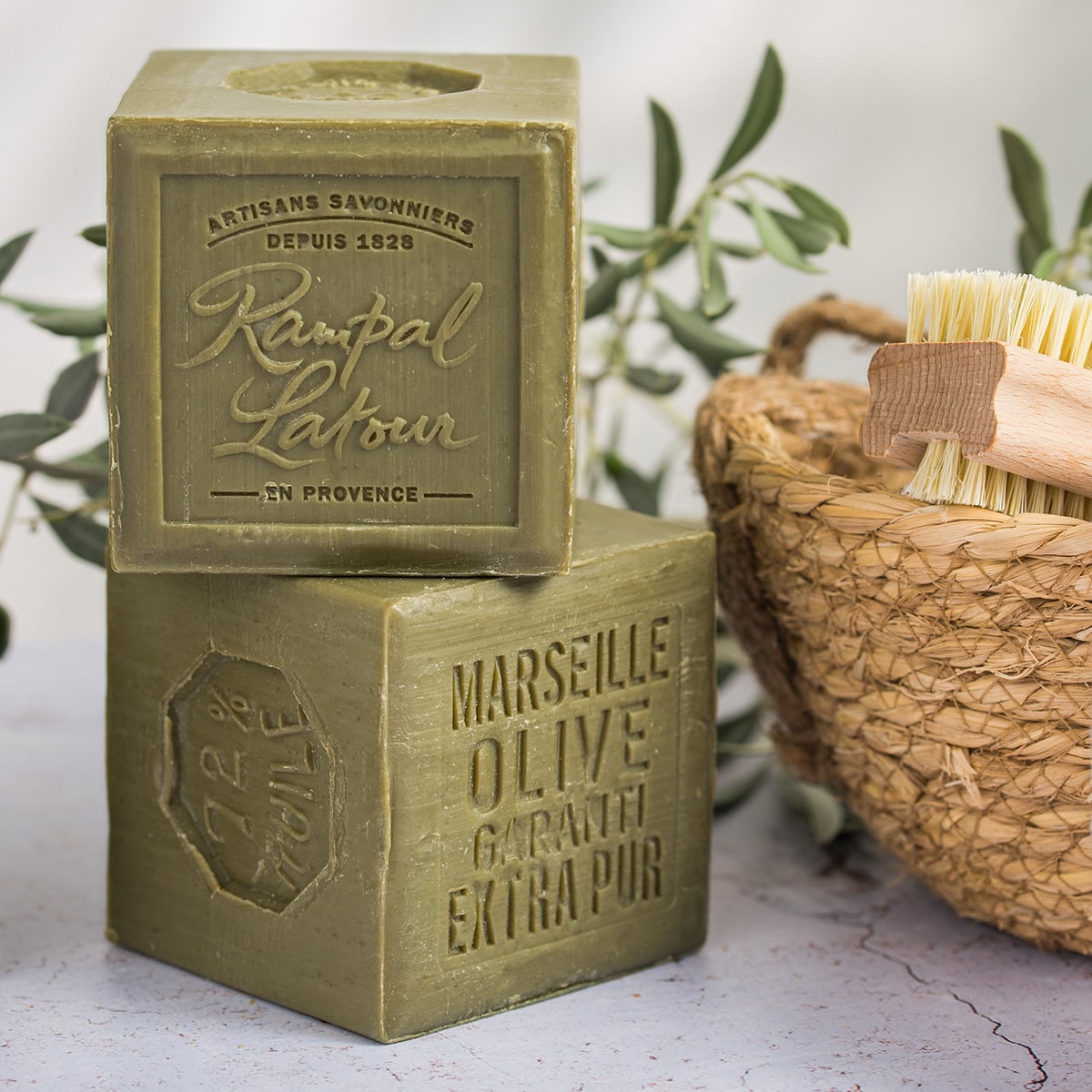 Box of 10 cubes of Marseille soap with olive oil - Cosmos Natural
Our historical cube format of 600 gram green Marseille soap is available in packs of 10! Ideal for having a stock in advance, to be shared or to have a few soaps in every corner of the house.
Pickup available at Boutique d'Usine Moderne
Usually ready in 24 hours
At Rampal Latour, we have chosen to keep glycerin in our Marseille soaps. It is produced naturally during the saponification process.
Imagine the softness of your clothes , your household linen... and that of your skin! Because even if you have sensitive skin, our soap will suit you because it is hypoallergenic in addition to being moisturizing . In addition, it is eco-designed to respect our environment.
In our multi-purpose and extra-pure white Marseille soap, you will find:
72% 100% vegetable and purified oils
More than 7% natural glycerin with moisturizing properties
We make our Marseille soap in the traditional way in a
cauldron, according to the so-called "Marseillais" process
. All our soaps are Made In France because
they are made in our workshops in Salon de Provence
, in the south of France.
Our Marseille soap with olive oil contains more than 3% of glycerine naturally produced during saponification and not added, recognized for its beneficial properties for the skin and softening for the laundry. It's as much as a moisturizer!

Did you know ?
An authentic Marseille soap has at least 72% oil in its composition. Our green Marseille soap goes further with more than 72% 100% vegetable and purified oils! We have chosen to use purified vegetable oils, because they meet the most demanding regulations in terms of contaminants and toxicity. Thus, we offer you a Marseille soap of exceptional purity.

INCI ingredients: Sodium Olivate, Sodium Cocoate, Aqua(Water), Glycerin, Sodium Chloride, Sodium Hydroxide.

In other words, we have saponified olive oil, saponified coconut oil, water, naturally produced glycerin, salt from the Béarn soils, and residual soda necessary for the reaction of saponification for all soaps.

COSMOS NATURAL certified by Ecocert Greenlife according to the COSMOS standard. 100% from natural origin.
A multi-purpose Marseille soap, ideal for laundry care, house cleaning, garden maintenance... This set of 10 600-gram cubes is perfect for never running out of stock. It is also an economical format that lasts a long time ! To share without moderation.

Our Marseille soap with olive oil is hypoallergenic (formulated without any additives, fragrance-free, additive-free, coloring-free, preservative-free), and does not dry out the skin of your hands. It offers gentle cleaning while being very effective against dirt. Its effectiveness has been shared and appreciated for generations.

Discover the advice and tips on the virtues and uses of Marseille soap.
Super
La réserve est faite pour un moment ! J'utilise ce savon pour tout: corps et cheveux.
J'en suis très content.
Par ici les bons savons !
Les savons sont emballés dans un carton (recyclable) et non individuellement dans du plastique. Super bon début car nous recherchons du vrac. Et voulons sortir du plastique. Nous nous en servons pour tout : douche, mains, vaisselle, linge... excellents pour tous les usages. Par d'odeur ajoutée. Juste celle du bon savon sain. Ça suffit amplement. Ça lave parfaitement. Et tout le monde est content. Y compris l'environnement
Excellent comme toujours.
Satisfait de ce savon moussant et odeur discrète.